Lunca Argeşului Park
Opened in 2013, it is the largest natural park in Romania developed with European funds. The park spans 24 hectars. It will be connected to Ştrand Park by a bycicle lane and footpath along the river and under the road bridge. 
The park itself has 4km bycicle lanes, 15k pedestrian paths, 360 benches, 2 fountains, open air theater and disco, free to use sports fields, lighting, 3 toilets, over 2,000 trees and shrubs, tulips, and playgrounds for childern. There are 3 entrances and a guarded parking lot.
One will feel relaxed in a quiet and beautiful place, surrounded by nature. Either a walk on it's wandering paths between trees and flowers, roller skating along the river, or a nice rest admiring the beautiful scenery, just pick your favourite bench.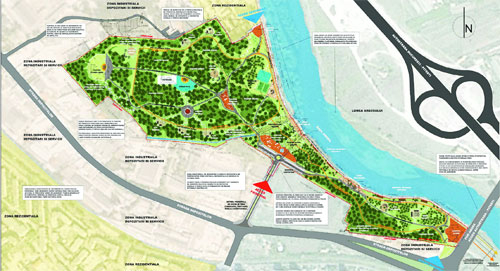 ---
To find the cache first go to the initial coordinates and look for the G symbol. With your back towards it look for a QR code. Scan it. If the result is familiar to you, then you are close. Climb near the QR code and look for a magnetic box. Please put it back exactly as you found it.
haqre, ohg hc
under, but up
A|B|C|D|E|F|G|H|I|J|K|L|M
N|O|P|Q|R|S|T|U|V|W|X|Y|Z
Decode